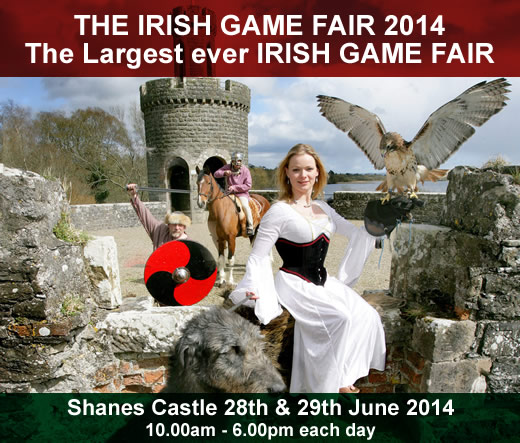 2013 saw the Ballywalter Game & Country Living Fair combine with the normal event at Shanes Castle to create The IRISH GAME FAIR & FLAVOUR FINE FOOD FESTIVAL (our 52nd fair) which was the largest Irish Game Fair EVER.
The fair at Shanes Castle already had a long established track record of already being Northern Ireland's premier country sports event in terms of the range and quality of trade stands; the superb traditional venue of one of Ireland's most historic estates; the range of international class competitions with an international class prize fund; a fantastic fine food festival sponsored by the Flavour Fine Food magazine; great main arena attractions; well established and respected brand name and trademark plus the support of Irish Countrysports and Country Life magazine (both hard copy glossy and FREE to READ online).
For the 2014 Game Fair we have targeted more trade stands; many new and more enhanced attractions including three arena programmes operating at once featuring a rich mix of country sports and living history entertainment ; an enhanced range of competitions with an enhanced prize fund ; some world class demonstrators and a continuation of the successful and evocative Irish sporting theme of 'The Year of the Salmon and Woodcock' . Once again it is likely to set new standards for family countryside and country sports entertainment as the best ever Irish game or country fair.
The Irish Game Fair is sponsored by NITB and Antrim Borough Council:
The Irish Game Fair at Shanes Castle, Antrim is partnered with the highly successful Irish Game and Country Fair, Birr Castle, Co Offaly www.irishgameandcountryfair.com under the brand of the Great Game Fairs of Ireland. These Fairs are the national game fairs in their respective parts of Ireland.
View the Great Game Fairs of Ireland videos: