The romance of fishing, the rush of rabbit and the flavour of fine food
As a woman with a passionate love of the countryside, from country sports to the finest of local foods, Emma Cowan is looking forward to another Great Irish Game Fair and FlavourIreland Fine Food Festival this June.
When Albert Titterington told me the 'foodie' themes of Shanes this year would be rabbit and trout, I admit it sent me on a flight of fancy to huntin' and fishin' days gone by.
Let's start with the 'romance of fishing'. I hear the question in your voice but, for me, fishing was a grand romance in the finest country style. I never cast a line until I was in my twenties and my introduction to the great sport of flyfishing was, in fact, my now husband's idea of how best to woo a country girl. What can I say, it worked! He introduced me to fishing, I introduced him to my dad's very own Queens, fresh from the ground.
First came the secret voyage, miles and miles through the countryside to an unknown destination that was the most romantic place of all, according to David. And he was right, set high in County Sligo, My Lady's Brae was all he promised - stunningly beautiful, even mystical, remote and exciting. What it wasn't, however, was the ideal place to teach me to fly cast. After several hours of picking the flies out of the hedges and greenery behind me, David gave up - and we found other ways to occupy our time in Sligo...
I did eventually master the art of casting. Learning and, indeed, fishing from a boat in a lough was altogether easier and so began our lovers' tour of Ireland's famous loughs. We fished Mask, Conn and Carra and, of course, Corrib, to name just a few, but my absolute favourite was Lough Anure in Donegal. I will never forget our first fishing trip there, the sun beaming out of a cloudless sky (not great for the fishing, I know) and the splendid isolation of being out on a boat in clear, calm waters on a still, perfect day. We had our picnic basket in the boat and pulled ashore on an island where we feasted on our favourite - sandwiches made with great chunks of cheddar, sliced onions and mayo, all washed down with a really rather fine red wine.

Having won me over, next David took my mum to fish at My Lady's Brae!
The rush of rabbit
Now, the rush of rabbit is a different thing altogether. Once again, it was the other half who introduced me to the delights of rabbit hunting. My first day out was in the County Tyrone countryside in the company of one Brian McClean and his ferret, Fred. What a day. I hadn't been doing brilliantly at my clay shooting lessons so I expected no great success but boy, could I shoot rabbits! It seems if it runs along the ground I'm on to a sure thing and in that one day I became hooked.
I tried rabbit hunting with dogs but no gun with the one and only Brian Plummer, who took me out with his ferret and two Lucas up in the hills beyond his home. Another amazing day's hunting that totally captured me. I already had my own Lucas terrier, a fearsome little hunter in her day, but I needed a lurcher. Here, I chose badly, a beautiful looking, beautifully natured rescue dog who clearly had a bit of German Shepherd in her. She was easily trained, biddable, eager - she just couldn't outrun a rabbit! Yes, I got myself a slow lurcher. I spent months rising at the crack of dawn to hunt the orchards with Lucas and lurcher. We put up plenty of rabbits, but she never caught a one of them. I just got to enjoy watching the chase - no traditional Spanish paella for me!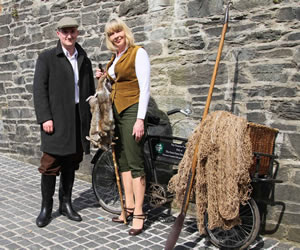 Emma with the Victorian Poacher and some rabbits
The flavour of fine food
You'll be picking up the link between my sport and my eating. Hunting and fishing I came to relatively later in life but hey, I've been a lifelong lover of really good food. It seems natural to me that what starts in the earth, on the ground, in the air or in the water should, most gloriously, come to the table. What better way to appreciate nature's bounty than to eat it all up! That's why, come this Game Fair at Shanes Castle, I'll be an eager visitor to the FlavourIreland Fine Food pavilion, where I know Game Fair chef, Emmett McCourt, will be cooking up wonders with trout and rabbit on the Flogas kitchen and my sister, Kathy, who organises the pavilion, will have brought together the very best of Irish food - cheeses, preserves, meat and game and, of course, the best local ciders and spirits. It's going to be every bit as exciting and every bit as sensually gratifying as that wonderful lunch break on an island in Lough Anure.
A groaning table of foodie delights at Shanes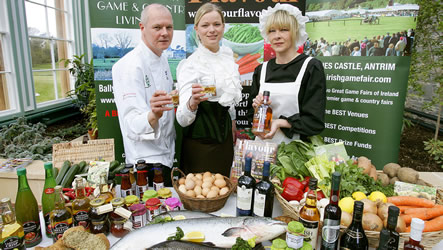 It's only right and natural that a Game and Country Fair should have a strong focus on bringing food to the table and that's exactly what you can expect this year at the Great Game Fair at Shanes Castle. In keeping with the season, trout and rabbit will feature on the menu, as well as gourmet delights, celebrity chefs and, of course, the Game Fair regular, Peter Gott of Sillfield Farm.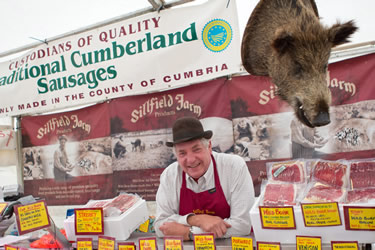 Great pies from Peter Gott
A perennial favourite at the Fair, Peter will be selling his wares - game pies and the best of venison, wild boar, sausages and slow food delights, but there will also be other familiar faces - and new ones - in the Food Festival pavilion, organised by Kathy Jensen of FlavourIreland.
She said: "We've brought together an eclectic mix of the very finest food and drink from all over Ireland, including Game Fair favourites like Armagh Cider Company, Old Irish Creamery, Bruce's Hill Farm Shop and Geterbrewed, which proved a very popular addition for anyone interested in brewing their own beers.
"But we've also got some great new additions to the Food Festival this year, including the world famous Burren Smokehouse from Lisdoonvarna, which specialises in smoked Atlantic salmon. They've partnered with Cratloe Hills Sheep's Cheese, also from County Clare and the first sheep's cheese ever produced in Ireland.
"Other new faces include Dunola rapeseed oils - perfect for game and fish cooking, White's Oats, bringing a tasty range of produce from the oat fields of Counties Armagh and Down and the Bramley Apple Association, celebrating the PGI status of our famous Bramley apples.
"That's just a tiny flavour of what you can expect at the Food Festival - keep up to date on FlavourIreland's Facebook page."
Of course, no Food Festival would be complete without live cookery demonstrations and the Game Fair's very own celebrity chef, Emmett McCourt, will be cooking up a feast of delights on the Flogas kitchen at the Food Festival. Emmett will be creating a range of mouthwatering dishes to celebrate the Game Fair themes of trout and rabbit and he'll also have signed copies of his new book 'Feast or Famine, a cultural food journey of the north west of Ireland' on sale.

Emmett, Emma and Kathy
"I've cooked everywhere from Belfast to Boston, but the Great Irish Game Fairs are definitely my favourite gig," said Emmett. "It's a real celebration of bringing the countrysports harvest to the table, whether that's game or fish, and to me that is the essence of good, honest food."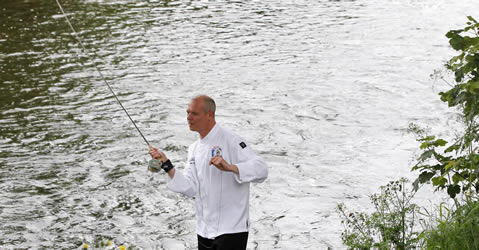 Emmett out of kitchen in angling action
Emmett will not be the only celebrity chef on site this year, out and around the fair expect to see other famous faces busy in the kitchen.
Radio Ulster chef and presenter Paula McIntyre will be entertaining with food with the South Antrim Community Network, showcasing the best of food from the south Antrim area while, in the Lidl pavilion, renowned Derry/Londonderry chef Ian Orr will be teaming up with Simon Dougan of Yellow Door fame to demonstrate just how great Lidl food tastes.
Ian runs the very successful Browns restaurant on Bond Street in the Maiden City and counts the likes of Gwyneth Paltrow amongst his many fans, so expect exceptionally fine food in his capable hands.
Ian said: "Lidl stocks a very good range of game in season, from duck to pheasant and from venison to partridge, all sourced locally in Ireland. Their fresh vegetables also come from local suppliers so I'm delighted to be cooking for Lidl, still using only the finest locally sourced ingredients, which is key to my cooking style."
All in all, if you want to understand how to make the most of what's in your game bag or your keep net, and how to enhance the flavours with the best of Irish food and drink, Shanes Castle is the place to be this June.