Flavour Fine Food Festival comes back to Shanes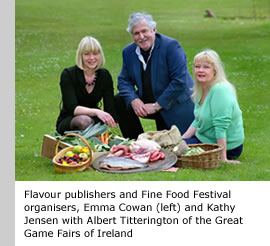 As Flavour magazine prepares to host another Flavour Fine Food Festival at Shanes Castle, the greatest game fair of all, publishers Kathy Jensen and Emma Cowan look at what's coming up and at why the Festival at Shanes brings them right back to their roots...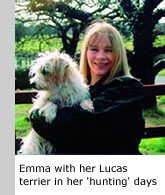 In looking forward to the Great Game Fairs of Ireland's 51st event at Shane's Castle this July, former Irish Hunting Shooting & Fishing editor Emma Cowan can't help but savour the flavours of years gone by as she looks forward to the Flavour Food Festival at Shanes Castle.
Black grouse to black
pudding; and all for the flavour...
The year, I believe, was 1987 and I a nubile young thing (or so my rose tinted varifocals see it) just out of university. The place was a car park between Lisburn and Lambeg. Centre stage, myself and a Black Grouse cock. He got a bit over-excited and, though you'd never tell from the resulting photograph, which was my first and only experience of front-page-Telegraph, the rotten little monster pooped all down my tee-shirt. That was my inaugural experience of game fairs! I know I still have the picture somewhere - damned if I can find it.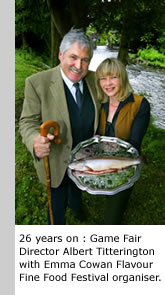 The man who talked me into this particular photoshoot was none other than Albert Titterington - he of 51 game fairs - and that summer I spent two very pleasant days under a hot sky persuading men in tweeds to subscribe to Irish Hunting Shooting & Fishing magazine. I was bitten, not just by the game fair bug, but by the countrysports virus too. I visited plenty more game fairs. I learned to fish (badly). I learned to shoot - 'dead-eye-dick' I was called on rabbits, but I never managed a high bird. I learned the etiquette of shoots, of gundog tests and trials. While the other half busied himself with spaniels, I took my early morning sport with my Lucas terrier and my slow lurcher, who only caught a rabbit once her whole life. I hunted a pack of Plummers and gave contraceptive pills to hedgehogs on Uist. I think the highlight, though, was going to the setter and pointer championship in the Slieve Blooms. As I struggled up the mountain thinking I was dying and men twice my age and thrice my girth sprinted past, I remember swearing I was going to buy my husband a setter. I wrote as much in Countryman's Weekly and garnered a bit of a fan base on the back of it.
So many fabulous memories. So good to come back to Shane's Castle and the greatest game fair of all.
FLAVOUR FOOD FESTIVAL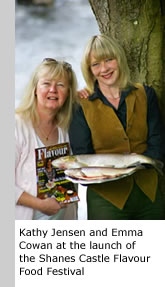 So what brings me back. Well, it's Flavour (that would be the black pudding bit of the title). My sister Kathy and I left paid employ behind just over two years ago to launch our dream magazine. Flavour is about all things food and drink and it's what we know for we've lived the foodie lifestyle all our lives and, one way or another, we've been writing in the area of food and drink for nigh on 30 years between us. It's our passion.

We come from a small farm, where we ate what we grew - even the kids that Nanny the goat bore. Pork and beef came in half a carcass (the butcher got the other half) and chickens we killed, plucked and gutted ourselves - hence I was able to teach the husband how to gut a pheasant! We grew all our own veg and, thanks to my mother's avant garde streak, were enjoying sweet peppers, courgettes and the like long before the advent of Tesco. Food - local, real, most excellent food - is in our bones. The result is Flavour, the first and only glossy magazine about all things food and drink in Northern Ireland and the border counties.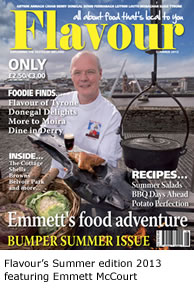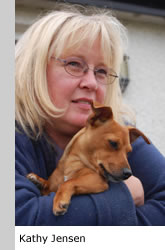 The inaugural Flavour Fine Food Festival at Shanes Castle Game Fair last year proved a real hit with visitors and the 2013 event is looking set to be even better, as Flavour's Kathy Jensen outlines.
A Flavour of what's to come
Out of all the Flavour team, I probably had the best craic at last year's Festival as I like nothing more than meeting and chatting with people, especially if it's about food... and boy did I find lots to talk about last time! From start to finish, the Flavour pavilion was buzzing with visitors sampling all the wonderful products our exhibitors had to offer, many of them highly acclaimed and multi award winning, including quite a number with one, two or three Great Taste Awards gold stars.
As a magazine, Flavour seeks to celebrate all that is so great about local (Irish) food and drink and the people who produce it. Like the team behind Flavour, our readers want to know the stories of the passionate people behind the scenes who grow the crops and tend and nurture their livestock in traditional ways that allow the animals to lead a much more natural life, which results in much better tasting meat. You also want to learn about artisan food making, whether its cheese, chutneys, breads, cider, jams… the list could go on and on.
COOKING UP A STORM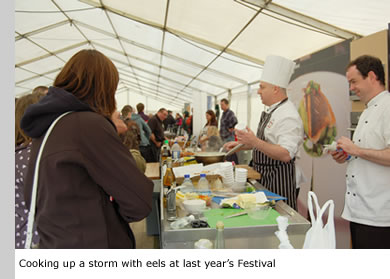 That's what you can read about in Flavour and at our Fine Food Festival, we bring it all to life through our exhibitors and our own cookery demonstrations using local food. Last year, we focused on celebrating Lough Neagh eels, one of our most iconic food products, yet one that we rarely see or eat here in Northern Ireland.
Chefs Emmett McCourt and Sean Owens went head to head in the big eel cook-off, between them demonstrating seven different eel recipes that had the watching crowds enthralled, as they learned a bit about this most wonderful of totally natural local foods and how to cook it. Most had never tasted eel before and many were wary of doing so, but everyone was pleasantly surprised by how delicious eel is and the samples of each dish disappeared in a flash!
This year we are planning even more cookery demonstrations throughout the two days of the Game Fair. We haven't quite finalised the chef line-up or all the dishes they will be cooking, but they will include ingredients from our exhibitors and we can promise you the recipes will be exciting, mouth-watering and inspiring!
DIVERSE MIX OF EXHIBITORS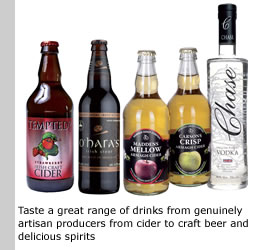 Of course, visitors to the Flavour Fine Food Festival pavilion at Shanes Castle Game Fair will also have a chance to sample and buy some equally exciting and inspiring foods and drinks from our diverse mix of exhibitors. Some you will be familiar with from last year, such as Bruces Hill Farm Shop, who offer their own grass fed beef from the prize winning Bruces Hill Cattle Company, including the Great Taste Award two gold star winning Dexter ribeye steak.
Armagh Cider Company's ciders, apple juices and cider vinegars are made from the fruit of Helen and Philip Troughton's own orchards, delivering authentic, hand crafted, completely natural apple products with genuine provenance and heritage behind them, that deliver on quality and taste.
And if cider's your thing, you might like to try Blas na hEireann National Irish Food Awards 2012 Gold winner, Tempted Strawberry Cider from DJ's Juice and Cider, all made with the finest Armagh apples.
FROM THE LAND DOWN UNDER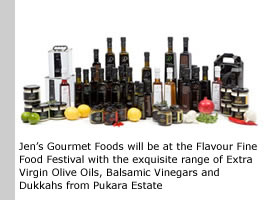 Also back from last year are Bella Jo Preserves and Jen's Gourmet Foods. Australian Jo McGowan's delicious relishes and chutneys include the Great Taste Award-winning Fig relish; Cranberry, Raspberry and Bushmills Whiskey relish; Caramalised Onion with Balsamic relish; Sweet Beetroot with Balsamic; and chutneys including Peach, Mint Chilli and Apple and Cinnamon Conserve.
Jenna Stevenson of Jen's Gourmet Foods will be well known to many from St George's Market. Jenna offers Australian Pukara Estate's distinctive, sophisticated and flavoursome Extra Virgin plain and flavoured olive oils and the divinely delectable Connoisseur Selection of Balsamic Vinegars, as well as delicious Dukkahs.
TITILATING THE TASTEBUDS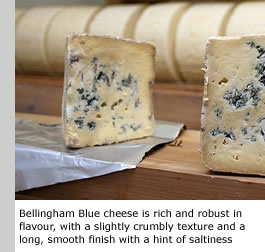 However, we also have many wonderful new exhibitors to titillate the tastebuds too! For example, several members of the Oriel Food Group in Co. Louth will be there. These include Irish Dragons Den winners Aruna Sauces made by Sarajit Chanda, in Ardee, who uses his mother Aruna's recipes to create authentic, tasty curries, all of which are gluten and wheat, while the Curry Sauce is also Dairy Free.
Also from Adree, Ferdia Fine Foods produce superb Irish artisan handmade chocolate using only the finest high quality couverture, so the appearance, snap, taste, texture, flavour, and aftertaste are blended together perfectly.
The Blackrock husband and wife team of Boris Glukhov and Claire McEnteggart, produce Bia Blasta dressings, dips and marinades, such as pesto, Caesar, classic vinaigrette, Bang Bang marinate, garlic mayonnaise, rocket dressing, smoked barbeque mayonnaise and honey mustard and cranberry sauce.
We also have the multiple award winning Bellingham Blue farmhouse cheese. Authentically hand-crafted at every stage of production, Bellingham Blue is one of Ireland's very best cheeses and has won awards at the very highest level of international cheese tasting competitions. Peter Thomas from Bellingham Blue is also a member of CAIS (The Association of Irish Farmhouse Cheesemakers) and he will be bringing along some of Ireland's most renowned cheeses, such as Cashel Blue, Gubeen, Knockdrinna and Carrigaline to name but a few.
BEST IN THE WORLD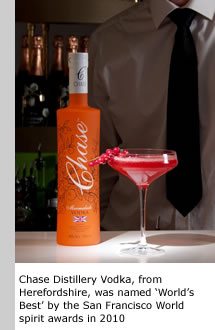 Then there's the incredible Chase Distillery from Herefordshire, whose vodka was named 'World's Best' by the San Francisco World spirit awards in 2010. The distillery has also created a number of limited edition varieties, including Chase Rhubarb Vodka and Late Harvest Raspberry Vodka. Chase will have a mixologist on hand to demonstrate the fine art of cocktail making with their vodka and Williams Gin!
Or maybe you fancy trying some craft beers? Located in Bagenalstown, Co. Cavan, the heart of Ireland's historical hop and malt growing region, the critically acclaimed Carlow Brewing Company's O'Hara's premium Irish craft beer range is made with all natural ingredients and no artificial additives, so is packed with flavours.
HOME COMFORTS!
We also have Pieroth Ltd, who offers an exclusive selection of wines from around the world at unique home wine-tastings, allowing you to try their wines in the company of friends and acquaintances in the comfort of your own home
Or you could try making wine, beer or cider yourself by visiting the Get'erbrewed stand! Based in Dromara, Co. Down, Get'erbrewed supplies homebrew beer, wine and cider kits along with all the equipment you could possibly need to start making your own.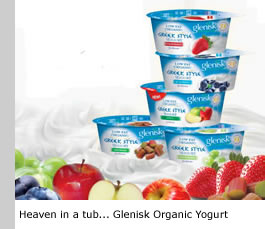 The Cleary family from Killeigh, Co Offaly has been producing Glenisk Organic Yogurt for more than sixteen years, Otherwise known as 'heaven in a tub', Glenisk's creamy, fruity and natural organic yogurts come in a range of mouth-watering flavours and contain beneficial probiotic cultures to promote healthy digestion.
Then we have scrumptious hand-made, home baked gluten and wheat free cakes from Diana's Treats in Co. Armagh, including Carrot Cake, Coffee Cake, Lemon Drizzle Cake, Peanut Butter Cookies and Shortbread. Also on the baking front will be Amber Catering and Cakes from Antrim with their artisan breads, scones, traybakes and savouries... and maybe the odd cupcake or two!
Let's not forget Old Irish Creamery's hand-crafted cheddars, which include flavoured varieties such as oak smoked, garlic and herbs, chilli, blueberry, walnut, chive, red wine, Guinness, Jameson Whiskey and cranberry.
And if you want to try something very new, visit the Broghgammon Farm stand to sample their cabrito goat meat products. The meat is a lean, sweet and delicately flavour tender alternative to lamb that is also low in fat and cholesterol.
This is just a brief 'taste' for what you can expect to find at the Flavour Fine Food Festival and, of course, if you visit the Flavour stand itself, you could enter our draw to win a stunning hamper packed full of flavoursome treats from our exhibitors. See you there!
Keep up to date on the Flavour Fine Food Festival, our cookery demonstrations and exhibitor line-up at: www.facebook.com/FlavourIreland